Fresh Juices
Fresh Juices and All Natural Smoothies!
Why not start your day with a freshly pressed juice or smoothie?  Our juice bar is open Monday through Sunday at 6am, and we use only fresh and all-natural Fruits and Vegetables.  We have a vast variety of fresh juices to choose from: Our Solar System, Galactic Green, Uranus Detox, Planet Venus, Mother Earth, Planet Cocktail, Masculine Mercury, to the Sizzling Sun.  Feel free to call in your orders or stop in personally at the Tabuleh Café to pick up your Fresh Juices.
Benefits of Fresh Juices
Through Fresh juices the body can absorb larger amounts of oxygen, nutrients, enzymes, and phytonutrients, the powerful substances that fight diseases.  Drinking one eight ounce glass of a fresh juice or smoothie enhances the body's immune system and metabolism and provides essential vitamins, minerals, and antioxidants.[1]
Order one of our fabulous drinks and enjoy the health benefits of fresh juices!
Solar System
Try this delicious blast of green apples, pears, oranges, and carrots all in one fresh juice to help alkalize and oxygenate the body.  An eight-ounce glass will provide you an excellent source of fiber,  antioxidants such as the cancer-fighting compound called polyphenol, vitamin A, vitamin B, vitamin C, vitamin E, sodium, magnesium, potassium, phosphorus, and zinc. [2] Also known for its therapeutic ability to cleanse the liver, intestines, and blood,[3] Solar System will purify the mind and body!
Galactic Greens
Chock full of powerful vitamins and essential minerals, our Galactic Green fresh juice is a delightful blend of wheatgrass, kale, spinach, celery, parsley, cucumbers, carrots, beets, and fresh mint.  Regarding wheatgrass, the Anne Wigmore Institute writes "wheatgrass juice is an effective healer because it contains chlorophyll, all minerals known to man, and Vitamins A, B-Complex, C, E, and K.  Wheatgrass is extremely rich in protein, and contains 17 amino acids, the building blocks of protein."[4] Try this drink with your next Tabuleh Café Entrée!
Uranus Detox
This refreshing mix of oranges, lemons, limes, grapefruits, apples, and ginger contains high levels of Vitamin C with anti-inflammatory agents.  According to a new study by the Nutrition and Metabolic Research Center at Scripps Clinic, the simple act of adding grapefruit and grapefruit juice to one's diet can result in weight loss. [5] Lemon and lime juice contained in our Uranus Detox stimulate the body's detoxification process in flushing out unwanted toxins and in lowering blood pressure.[6]
Planet Venus
This brisk juice blends kale, spinach, Romaine lettuce, parsley, cucumber and fresh mint.  Did you know that kale in particular contains glucosinolate isothiocyanate which conquers the formation of H. pylori (Helicobacter Pylori), a bacterial growth in the stomach that can lead to gastric cancer? [7] Planet Venus also contains a mega dose of Vitamin A, Vitamin C, high fiber content, Vitamin K, manganese and the anti-cancer agent quercitin.[8] Drinking this elixir every day is a smart choice in the battle against cellular oxidation.
Mother Earth
A fresh and minty elixir, Mother Earth includes fresh apples, pears, pineapples, wheatgrass and mint.  In addition to containing Vitamin C, copper, Vitamins A, B-Complex, K and 17 amino acids, Mother Earth contains a group of protein-digesting compounds known as cysteine proteinases.[9] Researchers believe that their anti-inflammatory properties show promise in helping cancer patients, relieving arthritis, increasing metabolism and proper digestion, and stimulating the body's immune system.[10]
Planet Cocktail
Planet Cocktail is a zesty mix of carrots, apples, pears, beets, lemons, and ginger.  According to John Heinerman, in the Encylopedia of Healing Juices, beets in particular are a blood-building herb that detoxifies blood and renews it with minerals and natural sugars.[11] A wonderful cocktail of iron, folic acid, phosphorous, sodium, magnesium, calcium, Vitamins A, and C, niacin, and biotin, try this drink with any of our appetizers, entrées, or healthy wraps.
Masculine Mercury
Try our unique combination of apples, beets, grapefruit, ginger, and fresh mint.
Containing a variety of cleansing and anti-inflammatory ingredients, Masculine Mercury is an excellent choice for those searching for a refreshing drink that is low on the glycemic index yet high in essential nutrients of iron, folic acid, Vitamin C, phosphorus, sodium, magnesium, niacin, and biotin.
Sizzling Sun
Our fantastic ray of sunshine in a glass combines oranges, papayas, pineapples, cantaloupes, and peaches.  Although a seasonal drink, it is a great source of vitamin A, beta-carotene, Vitamin C, Vitamin E, folate, and digestive enzymes papain and chymopapain.  Sizzling Sun lowers inflammation and cholesterol in the body, improves digestion, and is an excellent diabetic-friendly and heart-healthy drink.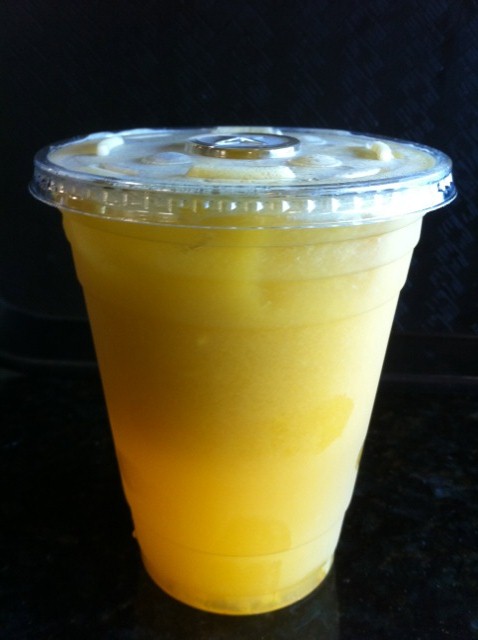 ---
[1] Best of Juicing. (2007). Health Benefits of Juicing. Retrieved June 14th, 2011, from http://www.bestofjuicing.com/.
[2] Sweet Additions. (2009). Green Apple Fruit Benefits. Retrieved June 14th, 2011, from http://www.sweetadditions.net/food-drinks/green-apple-fruit-benefits
[3] Guide to Herbal Remedies. (2009).  Health Benefits of Carrot Juice.  Retrieved June 14th, 2011, from http://guide2herbalremedies.com/health-benefits-carrot-juice/
[4] Living Whole Foods, Inc. (2009). Benefits of Wheatgrass and Juicing Diet. Retrieved June 14th, 2011, from http://www.wheatgrasskits.com/benefits-of-wheatgrass.htm
[5] Shomon, Mary. (2004).  Grapefruit and Weight loss:  The Grapefruit Diet is Alive and Well.  Retrieved June 14th, 2011, from http://thyroid.about.com/b/2004/02/19/grapefruit-and-weight-loss-the-grapefruit-diet-is- alive-and-well.htm
[6] CleanEnergyIdeas.Com. (2007-2009).  The Lemon Juice Detox.  Retrieved June 14th, 2011, from http://www.clean-energy-ideas.com/natural_detox/lemon_juice_detox.html
[7] Health Diaries.com. (2006-2011).  9 Health Benefits of Kale.  Retrieved June 14th, 2011, from http://www.healthdiaries.com/eatthis/9-health-benefits-of-kale.html
[8] Ibid.
[9] The George Mateljan Foundation. (2011).  Pineapple. Retrieved June 14th, 2011, from http://www.whfoods.com/genpage.php?tname=foodspice&dbid=34
[10] Bromelain.net.  Benefits of Bromelain.  Retrieved June 14th, 2011, from http://www.bromelain.net/herbal-remedies/bromelain/benefits-of-bromelain
[11] Aim for Herbs.  Beets for Iron Health.  Retrieved June 14th, 2011, from http://www.aimforherbs.com/remakingbeets.html